Ana Swanson reported in right this moment's New York Times that, "The Trump administration's prime commerce negotiator defended the president's financial settlement with China on Wednesday, saying that Beijing was shopping for extra American merchandise and had reaffirmed its dedication to dwell up to the deal.
"In remarks to Congress, Robert E. Lighthizer, the United States commerce consultant, as an alternative reserved his harshest criticism for the World Trade Organization, which he known as 'a mess,' and the European Union, which he stated may face tariffs if it didn't agree to a commerce deal.
"Mr. Lighthizer said his office was closely tracking China's purchases of American goods, which were agreed to in a pact in January, and was in frequent contact with Chinese officials. China has committed to buying an additional $200 billion of American products by the end of next year. That is a goal many analysts said was unrealistic even before the pandemic, which has suppressed consumer demand, disrupted supply chains and caused a crash in oil prices, resulting in purchases that are even lower than anticipated."
'Every indication is that in spite of this Covid-19, they are going to do what they say,' Mr. Lighthizer stated of the Chinese.
Today's article famous that, "Mr. Lighthizer also praised the administration's trade record, including new or revised deals it has signed with Japan, Canada and Mexico that he said had improved the terms of trade for American farmers and businesses. And he said that a comprehensive trade deal with the United Kingdom was just a matter of time, though it was not likely to be concluded before the election in November."
Ms. Swanson added that, "But [Amb. Lighthizer] was extra circumspect on the potential for a take care of one other huge associate, the European Union, which he accused of 'thinly veiled protectionism' for rejecting American agricultural merchandise over alleged security issues. A take care of the European Union is 'not looking good in the short term,' Mr. Lighthizer stated, including that 'the president will use tariffs if he has to to get a fair shake for American businesses.'
"Mr. Lighthizer defended the administration's aggressive use of tariffs and rebuffed requests from various lawmakers to reduce or defer the levies it charges on products imported by people or businesses in their districts, in order to reduce costs on businesses that are struggling with the pandemic."
Writing in right this moment's Washington Post, David J. Lynch reported that, "U.S. Trade Representative Robert E. Lighthizer stated he expects China to fulfill its promise to purchase an extra $200 billion in American items and providers over the following two years, regardless of its sluggish begin to inserting new orders amid the coronavirus pandemic.
"Lighthizer stated Chinese authorities not too long ago purchased sizable quantities of U.S. agricultural items, together with $1 billion price of cotton, and publicly reiterated that they meant to adjust to the 'phase one' commerce deal they'd signed with President Trump in January.
'I expect them to live up to the agreement. They have indicated they will,' he stated.
The Post article famous that, "Appearing before the House Ways and Means Committee, Lighthizer provided a far more upbeat assessment of the deal than the president has in recent weeks. Trump repeatedly has expressed irritation with China, saying last month he had 'lost a little flavor' for the trade deal and threatening to 'cut off the whole relationship.'"
Mr. Lynch added that, "In a day-long look earlier than House and Senate panels, Lighthizer defended the president's use of tariffs to overhaul U.S. commerce coverage, forged doubt on prospects for rapidly reaching agreements with the European Union and Britain, and pledged to crack down on any violations of a brand new North American commerce deal that takes impact on July 1.
"Lighthizer called the U.S.-Mexico-Canada Agreement (USMCA) 'the best trade agreement in U.S. history,' but acknowledged that he anticipates issues with its implementation. The pact replaces the 1994 North American Free Trade Agreement (NAFTA), which Trump has blamed for the loss of millions of American factory jobs."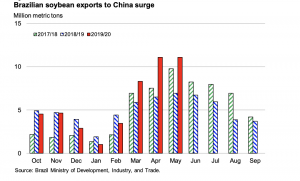 Meanwhile, Reuters author Andrea Shalal reported yesterday that, "The United States expects to start negotiations with Japan a couple of second part commerce settlement in a couple of months, U.S. Trade Representative Robert Lighthizer stated on Wednesday.
"Lighthizer told a hearing of the House Ways and Means Committee that those negotiations had been delayed due to the novel coronavirus pandemic, but remained a priority for the Trump administration."